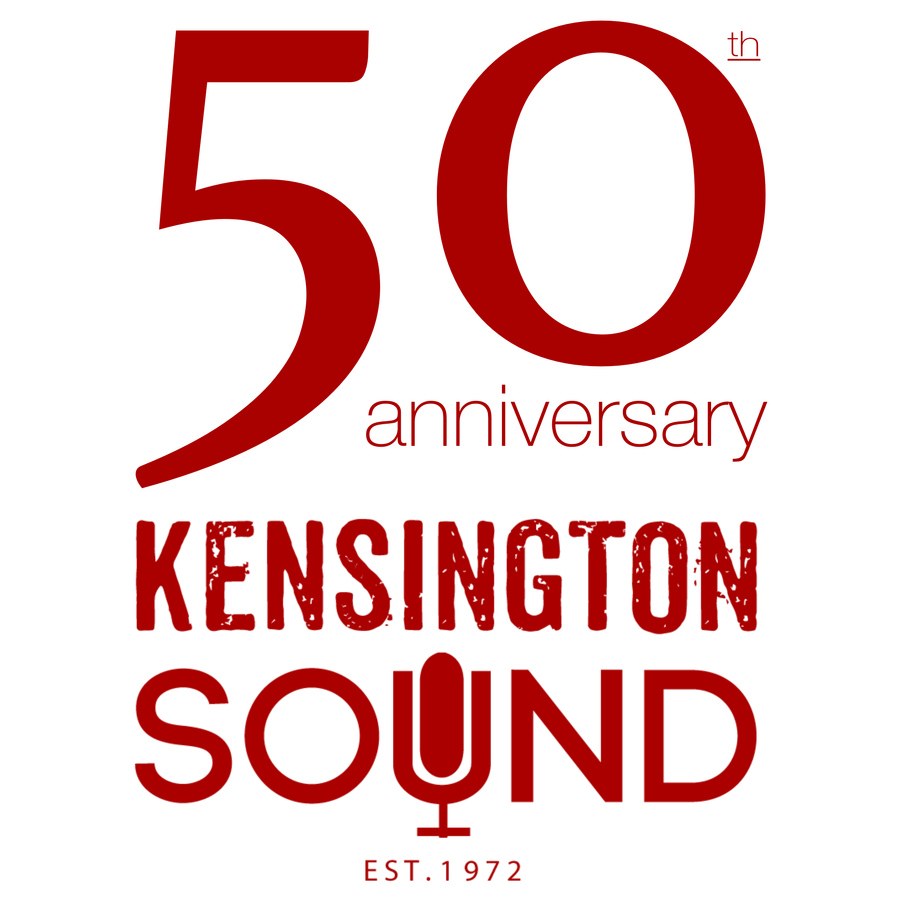 Welcome to Kensington Sound. The legendary Toronto recording studio where vintage analog seamlessly meets modern digital.

Located in Kensington Market, the soul of Toronto is represented here in full, heart-felt force.

Founded in 1972, Kensington Sound's 50-year musical legacy bleeds into every new record we make.

Come and hear for yourself - we can help turn your musical visions into a reality.
CONTACT & BOOKINGS
---
---
MICS
-AEA KU5A Super-cardioid Ribbon
-AKG C452 EB (Vintage)
-AKG C451 EB (Vintage)
-AKG C414 EB x2 (Vintage)
-AKG Console Talkback (Vintage)
-Audix F15 Cymbal Condenser x2
-Audix I5
-Coles 4050 Matched Pair
-Kel Audio HM3C x2
-Kel Audio HM2D x2
-Kel Audio Song Sparrow
-MB Condenser x3 (Vintage 1958 – Rare)
-Neumann u47 FET (Vintage)
-Neumann u87 x2 (Vintage)
-Neumann u89 (Vintage)
-Neumann Km84 x2 (Vintage)
-Peluso P12 Tube (AGK C12 type)
-Peluso P67 Tube (Neumann U67 type)
-Shure Beta 58 x2
-Shure SM57 x2
-Shure SM58 x2
-Shure SM7B
-Sennheiser 403 (Vintage)
-Sennheiser 409 (Vintage)
-Sennheiser E901
-Sennheiser E902
-Sennheiser E906 (2x)
-Sennhsier MD431
-Sennheiser E935
-Sennheiser MD-441 x2 (Vintage)
-Studio Projects C1 x2
-Telefunken U47 Tube (Vintage)

OUTBOARD PROCESSORS
-A-Designs NAIL Stereo/Dual Mono Tube Compressor
-Ashly SC-50 Limiter/Compressor x2 (Vintage)
-Ashly SC66 Stereo Parametric EQ (Vintage)
-Avalon 747SP Stereo Tube Buss Compressor & EQ
-Behringer TUBE ULTRA-Q T1951 EQ
-DBX 160 Compressor / Limiter x2 (Vintage)
-Empirical Labs Fatso Jr. Stereo/Dual Mono Compressor & Tape Emulator
-Eventide Ultra Harmonizer H3000 (Vintage)
-Lexicon 224 Digital Reverberator (Vintage)
-Lexicon MX200 Digital Reverberator & FX Unit (Available upon special request only)
-Marshall Time Modulator
-Neve 2254a Compressor x2 (Vintage - Matched Pair)
-Universal Audio LA-610 Mk II Tube Preamp, Program EQ & Optical Compressor x2
-UREI 1176 Silverface Compressor/Limiter (Vintage)

CONSOLES
-1975 MIDAS Custom Console (26 Track Analog, gold tipped)
-Slate Raven MTi 27" touch-screen control surface

PREAMPS
-Focusrite ISA-8 (8-Channel Preamp)
-Neve 1073 DPD (2 Channel Preamp & A/D)
-Midas Console (26 Channel Strips with EQ)
-Universal Audio LA-610 Mk II (Tube Channel Strip) x2

MONITORING
-Akai SX-R7 reference speakers
-ART HeadAmp6 PRO 6-Channel Headphone Amp
-Auratone Mono reference speaker
-Bryston 4B Poweramp
-KRK VXT-8's + 10" sub
-Mackie "Big Knob" Monitor Controller w / talkback
-Tetra Custom Mains
-Yamaha custom audiophile-grade Poweramp
-Yamaha NS10's
-Various headphones including KRK and Audio Technica

RECORDERS & A/D
-Universal Audio Apollo x16
-Universal Audio Apollo 8 (black)
-Neve 1073 DPD (2-Channel A/D)
DIGITAL WORKSTATIONS
-Mac Pro 3.0gHz 10 Core Tower (2013) With hyper threading to 20 cores, and 32GB RAM
-Slate Raven MTi 27" touch-screen control surface
-Various SSD and 7200rpm audio drives, 512gb internal SSD (Full Backblaze backup)

KEYS
-Hammond B3 w/Leslie (Vintage 1953)
-Kurzweil K2500X 88-Weighted-Key Synth, Sound-Module and MIDI Controller
-Roland A-49 MIDI Controller
-Yamaha C-3 Grand Piano (Vintage 1970's)
-Wurlitzer 220A (Vintage 1970's)

DRUMS
-Rick Baker Custom-built drum kit
-Pacific kit with 24" bass drum
-Variety of high-end cymbals from Zildian, Sabian and Paiste

AMPS & CABS
-Ampeg 4x10 Bass Cab
-Fender 1973 Super Reverb Combo Amp 4x10
-Fender 1975 Twin Reverb Combo Amp 2x12
-Orange Rockerverb 50 MkII Head
-Orange PPC412 cab (Vintage 30)
-VOX AC30 Combo Amp TB72x12
-Marshall JCM 800 2203 Head
-Marshall Jubilee Series 4x12 Cab
-Mesa Boogie 4x12 Cab

GUITARS
-1950's Gretsch Lapsteel (Electric)
-1962 Gretsch Country Gentleman (Hollowbody Electric)
-1968 Emperador (Hollowbody Electric)
-1972 Gibson Hummingbird (Acoustic)
-1980's Custom Luthier-Made Fender P-Bass w/mid 70's cream DiMarzio Pickups
-1988 Yamaha FG 335 (Acoustic)
-1990's Ibanez Electric w/ Floyd Rose (Electric)
-1990's CUSTOM Carter ACOUSTIC
-1999 Fender Standard Straocaster w / Wilkinson SC Pickups (Electric)
-2000 Epiphone (1958 re-issue) Korina Explorer (Electric)
-2002 Yamaha APX-5A (Acoustic)
-2004 Epiphone ES-335 PRO (Hollowbody Electric)
-2007 Wilkinson V6 Icon Series Relic (Electric)
-2007 Gibson SG-3 Custom
-2011 Custom-built Fender/USACG Straocaster hollow-body w/ Marty Bell Sparkle Finish, Deluxe Maple Neck & Loller Blackface Pickups (Electric)
-2011 Squier by Fender Vintage Vibe Series Telecaster w / Lollar 52 pickups (Electric)
-2015 Ray Majury Custom Telecaster, Jimmy Page Spec (Electric)
-2017 Paul Reed Smith Tremonti SC245
-2019 Ray Majury rotating guitar fleet (various electrics)

MISC. EQUIPMENT
-SE Electronics Reflection Filter
-Varitey of high-end pop filters incl. Blue Audio filter
-Mogami XLR Cabling
-Gold-Tipped Outboard Patch Cables
---
---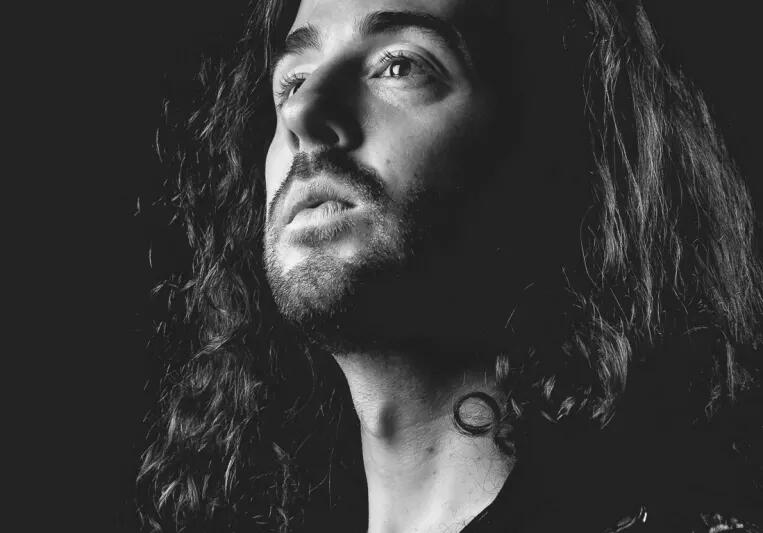 1972 studio founder, and Kensington Sound producer who has worked with some of Canada's greatest artists including Jeff Healey, Murray McLauchlan, Daniel Lanois and many more. Vezi focuses on great songwriting, organic production and musical integrity.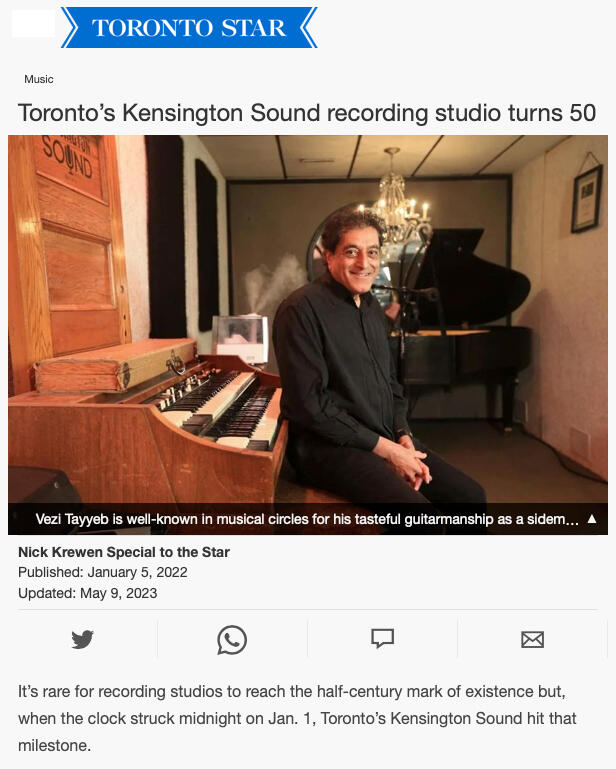 #1 charting producer who has worked with Grammy Award winners (David Darling, Boy George), BET Award winner Snoop Dogg, J-Pop icon Chris Hart, stars from X-Factor and The Voice, and many more. Ben focuses on quality songwriting, stellar mix sonics and hit-factor potential in his productions.
---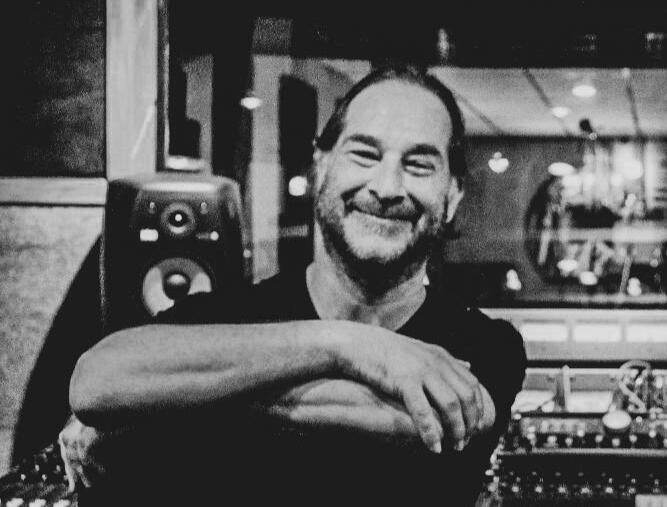 Producer and songwriter specializing in classical piano, ambient and healing music, soundtrack work, and pop. He has worked with international artists including J-Pop icon Chris Hart, David Darling, Grammy and Juno Award winners, and many more. He works closely with several music labels and publishers in Japan, creating music for audiences across the globe.
Earl Powell is a Grammy and Billboard recognized producer and songwriter based out of LA, but who calls Kensington Sound his 2nd home. His focus is on hit-song potential and amazing vocal production. His credits include Jennifer Hudson, Tito Jackson, and Keyshia Cole, and Snoop Dogg.
---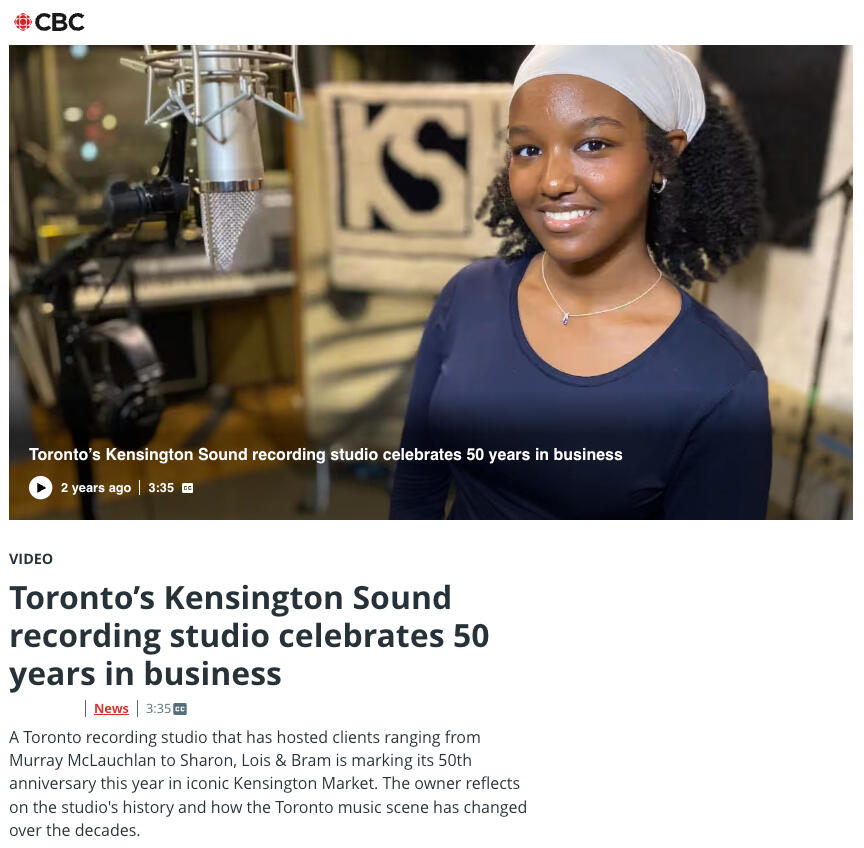 Producer, guitar player and drummer with #1 hit singles on radio, as well as television and movie placements, Josh has worked with some of the Rock greats across North America. His credits include the Trews, Manifest, Bethel Music, and Thousand Foot Krutch. He has multiple wins and nominations for Juno Awards, Dove Awards and Gospel Music Awards.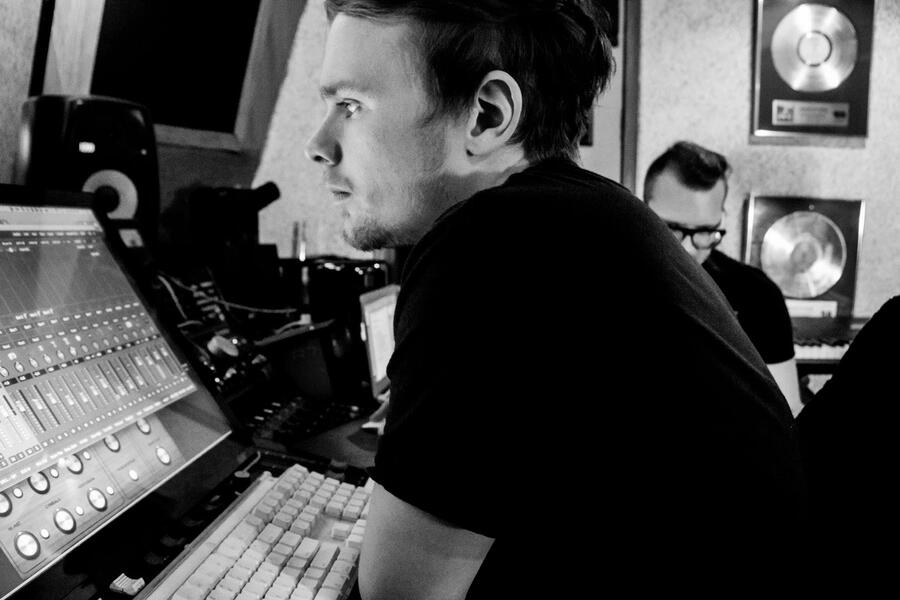 Producer, ambient guitarist, arranger and mixing engineer from the UK who now works with some of Canada's finest up-and-coming artists at Kensington Sound. Will helms projects in a range of styles including Pop, Rock, Indie, Soul, R&B, Ambient, Folk, Country and Blues.
---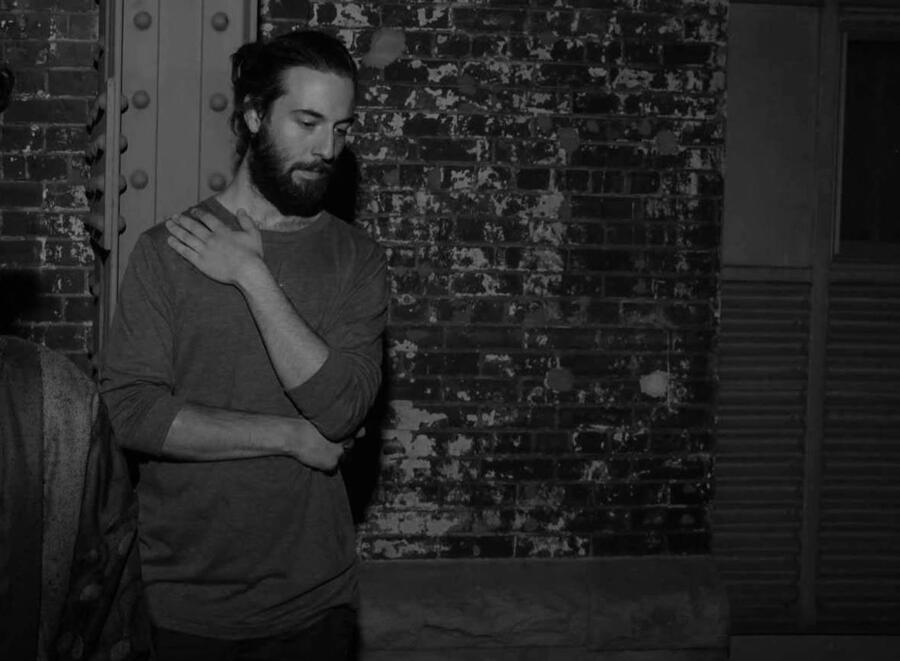 Producer specializing in EDM, Hip Hop, Soul, Jazz, Experimental, and mixing for film. One half of Montreal's Hansom Eli, Alexy is a buzz-worthy musician, sound designer, and producer.
---
---
Alannah Myles
Jeff Healey
Lenny Breau
Paul Shaffer
Alexy
Ekelectic Journey
Ben Pelchat
Allyson Morris
Jordan John
David Darling
Tine
Carey Ott
Michael Harris
Ulrik
Kingdom Beats
Jojeto
Brooke Nicholls
Julia Hendrik
Jeanine Mackie Band
Johnny and The G-Rays
The Rajans
Earl Powell
The Marvelettes
Rachael Bawn
Glen Matlock (Sex Pistols)
North Easton
Snoop Dogg
Tower of Power
Joe Bonamassa
Tim Arnold
Rosanne Baker Thornley
Truths and Rights
Compass
Murray McLauchlan
Dan Hill
Keith McKie
Songship
Sharon, Lois & Bram
Teenage Head
Kiss The Moose
Bob Ezrin
Ron Sexsmith
Chris Spedding
Bill Colgate
Kim Cole
The Lincolns
Walter Zwol
Melwood Cutlery
Graham Shaw
The Wild Strawberries
Vampire Beach Babes
Mark Almond
RBT | NE
The Drifters
Boy George
Mad About Plaid
The Meeting House
Wes Mason
Belinda Metz
Steve Fox
Diane Chase
Harlow
Crack of Dawn
David Wilcox
National Film Board
Daniel Lanois
Jackie Richardson
Bill Bridges
Marc Jordan
Rick McCue
Rex Chainbelt
The National Ballet
John Jackson
Leroy Sibbles
Carlene Davis
Grit Laskin
Billy Reed and The Street People
Look People
Chrissie Hynde
---
Of songs produced at Kensington Sound
Vezi - Blade Of Grass (Song produced by Vezi & Charles Huntley)
VAXXO - Is This Love (Song produced by Ben Pelchat
M.T. Walker - Oceans (Song produced by Ben Pelchat)
My My Sugar - Kids of Civil War feat. Canadian Children's Opera Company (Song produced by My My Sugar & Ben Pelchat)
---
---
---
OFFICIAL KS PARTNER: DW MEDIA DESIGN
Specializing in:
-Album Artwork
-Posters/Banners
-Social Media Content
-Websites
-Motion Graphics (e.g. Lyric Video)
---
OFFICIAL KS PARTNER: THAT FIRST SONG
TFS is a songwriting, production, career coaching, branding and video resource headed up by internationally recognized, awarding-winning singer / songwriters Rosanne Baker Thornley and North Easton.
---
Copyright © 2021, Kensington Sound (TM). All Rights Reserved.
170 Baldwin Street
Toronto, ON
M5T 1L8